Is your business email hosted with another company?
If you already have an email service linked or connected to the domain that you want to use for your website, please keep reading. To keep your email inbox working, it's CRITICAL that you follow this process before moving your domain to My Credit Repair Site. Do not make any changes to your domain's nameservers before following the recommendations outlined below.
Table of contents:
To start, make sure you have the following:
A domain managed outside of MyCreditRepairSite



An email host / email inbox service linked to your domain (i.e. Zoho Mail, GSuite)
Retrieve the records from your email inbox provider
Since we have no control over your current email service and its setup, to get started, we need you to contact your provider first.
Contact the Support team of your provider. Some of the most popular options are listed below:

a) Zoho Mail:

* You can call them at

+1(888) 900 9646



* For other Support channels visit https://help.zoho.com/portal/en/home

b) Google Workspace (previously GSuite):

* Google Workspace Admin Help

c) Bluehost - Microsoft 365

* You can submit your request here https://helpchat.bluehost.com/
Ask them to provide you with the exact set of records needed to host your website with us and keep your email service with them.

If they need more information, you can direct them to this article.


Save the information they give you in a safe place. We'll need it later.
Accessing your cPanel
After getting the records from your provider, we must enter them into your cPanel. cPanel is used as a control panel to simplify website management. cPanel allows you to publish websites, manage domains, organize web files, create email accounts, and more.
Go to the login page for My Credit Repair Site.

We invite you to bookmark this page since it will be the starting point for many of the setup tasks.


Enter your email and password and click Login.




Click on Hosting Plan - Website Hosting, under Your Active Products/Services.




Click on Login to cPanel, under Actions.

cPanel will be loaded in a new tab. Welcome!


Adding DNS records in cPanel
Before starting this process, make sure you have handy the set of records that your provider shared with you.
Click on the Manage button.



Next, pull the list of records that your provider shared with you. You can enter them in any order you would like by following the next steps.


Click on the dropdown arrow next to + Add Record.




Select the type of record from the menu.

The most common records to set up an email service are MX, TXT, and SPF records. The type and number of records that you must enter is determined by your email inbox provider.

Among the options, you will find:

a) A Record

b) AAAA Record

c) CAA Record

d) CNAME Record

e) DMARC Record

f) MX Record

g) SRV Record

h) TXT Record



Important Note:

Before adding any MX records, you must remove the default MX record by clicking the Delete button, or edit the default values. See screenshot below.




To add an MX Record, for example, click on Add "MX" Record.



A set of records usually consists of

three or four values

:

a) Name or Host

b) TTL or Time to live

c) Priority

d) Destination or Value


Repeat this process for every record, as needed.
Video Overview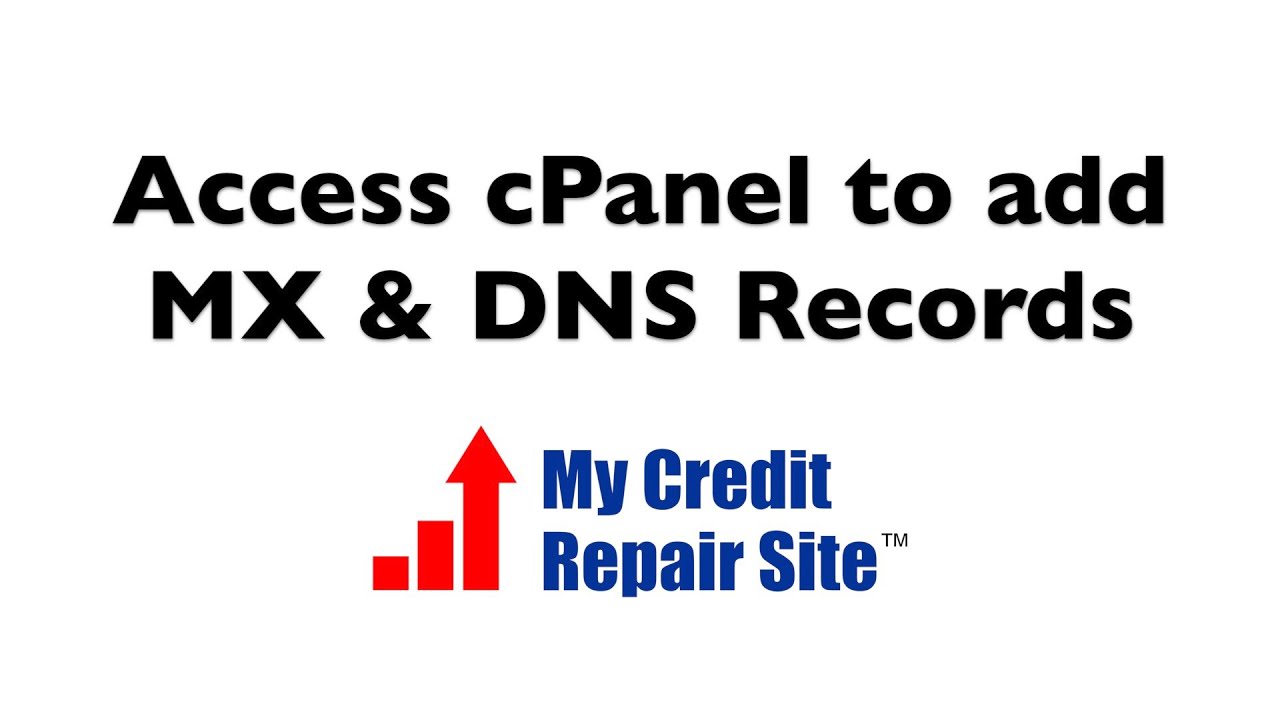 Tip
If you need assistance with this process, please contact your email inbox provider first. Ask them for the exact MX records and/or DNS settings needed in order to host the website with us and keep your email service with them.

Then, forward those instructions to us in a support ticket at support@creditrepaircloud.com with a note explaining your goal.

What you can do now: